Skip to Content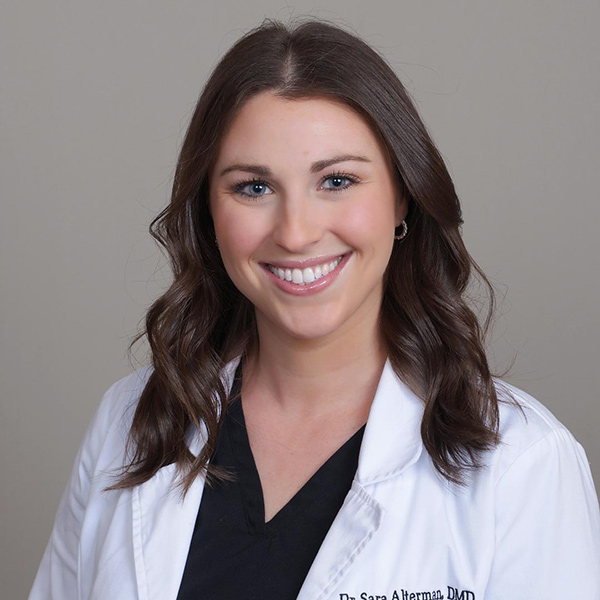 Meet Dr. Sara Alterman
Dr. Sara Alterman and her team of dental professionals at Great Rivers Dental are committed to providing excellent dental care in a comfortable and relaxed setting. Dr. Sara was inspired to enter the dental field as a teen when she realized that her classmates and even some of the adults she knew feared going to the dentist. She wanted to make the experience more patient-friendly and comfortable, so she decided the best way to accomplish that was to become the dentist herself. Dr. Sara aims to provide comprehensive dental services while considering the unique needs and budget of each individual patient.
Dr. Sara grew up in a small town outside Boston, Mass. before her family relocated to south Florida. She graduated from the University of Florida with her bachelors in Nutritional Sciences in 2016 and then headed back up to Boston to pursue her dental degree from Tufts University School of Dental Medicine.
Dedicated to continuing her education to provide the best care possible, she consistently participates in advanced dental courses, seminars, and private study clubs with the top dentists in St. Louis area. She has received advanced training in many areas of dentistry, including Invisalign and Surgical Implant placement. She is a member of the American Dental Association, American Academy of Facial Esthetics, and the Seattle Study Club.
Outside of the office, Dr. Sara enjoys cheering on the New England Patriots, attending St. Louis Cardinals baseball games, and traveling to see her friends and family on the East Coast. She also loves to bake and is on a mission to make the perfect chocolate chip cookie. Recipe suggestions welcome.